We've got a handle on design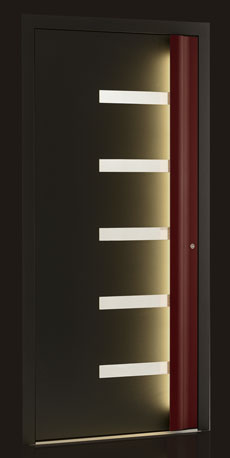 No good front door is complete without the right accessories. Door handles are much more than mere functional elements. After all, anything you touch every day should be pleasing to the eye and hand alike.

Kimo and Formeli are our exclusive designer handles for tailor-made leaf-concealing door panels.
The Kimo gently swerves out from the door service and is available in a variety of wood appearances and paint coatings (RAL), as well as in the stainless-steel-like Eloxalton. Optional LED lighting is one special highlight with the Kimo.
The design of the Formeli, on the other hand, is more angular. In addition to the above-mentioned surfaces, it is also available in a silver anodised finish.